Previous issue | Next issue | Archive
Volume 8 (3); 25 September, 2018

---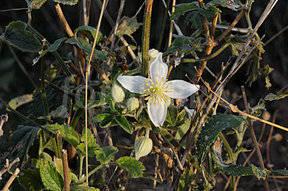 Research Paper

Assessment of Antimicrobial Effects, Antioxidant Activity and Phytochemical Analysis of Leaves Extract of Clematis simensis.
Birhan M, Kenubih A, Mekuriyaw A, Yayeh M and Nuru A.

Asian J. Med. Pharm. Res., 8(3): 15-25, 2018; pii:S2252043018000003-8
Abstract
Climatis simensis is an important medicinal plant in Ethiopia. An experimental study was conducted on the crude extracts of the leaves of C. simensis to screen the major phytochemical constituents, evaluate the antibacterial activities and assess the antioxidant activities. The antibacterial activities of the extracts were evaluated using agar disc diffusion method, Minimum Inhibitory Concentration by broth dilution and Minimum Bacterial Concentration by plate counting agar. Antioxidant activity was determined by Phosphomolybdenum reduction assay, reducing power assays and hydroxyl radical scavenging activity. The phytochemical analysis indicated the presence of tannin, flavonoids, polyphenols, and terpenoids in the leaves of C. simensis. Among the test bacteria, Staphylococcus aureus was found to be the most susceptible bacteria followed by Pseudomonas aeruginosae with a mean zone of inhibition of 12 mm and 10 mm, respectively. Moreover, the antibacterial activities of the plant extract for each bacterial strain were statistically significant (P<0.05). According to Phosphomolybdate reduction assay, the highest antioxidant activity was ethyl acetate fraction at 0.99 µg AAE/mg with 500 µg/ml concentrations. In all tested bacterial strains, the inhibition zone agreed with its MIC and MBC values. Therefore, further investigation should be conducted on antimicrobial activities and identification of the antioxidant constituents of the plant using other veterinary important species and strains of bacteria.
Keywords: Antimicrobial, Antioxidants, Clematis simensis, phytochemical

[Full text-PDF]

---
Assessment of Lipid Profile among Patients Infected with Visceral Leishmaniasis and Healthy Controls.

Yesuf M, Abebe M, Biadgo B, Alemu A, Chanie M and Kenubih A.

Asian J. Med. Pharm. Res., 8(3): 26-32, 2018; pii:S2252043018000004-8
Abstract
Visceral leishmaniasis remains a major public health concern in many parts of the tropical and subtropical world. The infection is also accompanied by lipid profile alterations. The aim of the study was to assess lipid profile among patients infected with visceral leishmaniasis and healthy control in Northwest Ethiopia. A total of 140 study participants (70 case and 70 healthy controls) were enrolled. A Five milliliter venous blood was collected at the time of diagnosis. Serum was extracted from the sample and analyzed by A25 Biostem, Spanchemistry analyzer using enzymatic calorimetric methods. The data was described using mean, standard deviation, and percentage. Independent t-test was used to see the mean difference among groups and linear regression was employed to determine the associated factors for the outcome variable. P-value < 0.05 was considered as statistically significant. Study participants with visceral leishmaniasis had lower levels of mean total cholesterol (69.7± 22.83 vs 179±42.87), high density lipoprotein cholesterol (18.3±7.79 vs 88±31.53), and low density lipoprotein cholesterol (35.3±15.19 vs 64.6±18.11) in mg/dl as compared with the control group. On the other hand the case group showed significant mean increase in circulating triacylglycerol (169±67.43 vs 116±46.4) and very low density lipoprotein cholesterol (33.8±13.49 vs 23.8 ±10.8) in mg/dl in contrast to the control group. Body mass index, infection by leishmaniasis, parasite load, waist circumference, occupation and educational level were variables yielded significant associations with serum lipid profile. Marked elevation in serum triacylglycerol and very low density lipoprotein cholesterol and significant lower level of high density lipoprotein cholesterol found in patients make the patients more prone to dyslipidemia. As consequence, dyslipidemia also important risk factor for the development of atherosclerosis and coronary heart disease.
Keywords: Ethiopia, Lipid profile, Visceral leishmaniasis.
[Full text-PDF]

---
Previous issue | Next issue | Archive
This work is licensed under a Creative Commons Attribution-NonCommercial 4.0 International License.